Paper-based document management processes have been around for years. They will always be part of even in a modern workspace but making them a central part of your business is not practical in terms of security, storage, and cost. Not to mention sustainability.
Reaping the benefits of digital transformation is essential for businesses today — if the Covid-19 pandemic taught us something is that we need to be prepared with a detailed business continuity strategy. This can only be accomplished when your business has 24/7 secure access to files, wherever and whenever you may need them or in case of an emergency.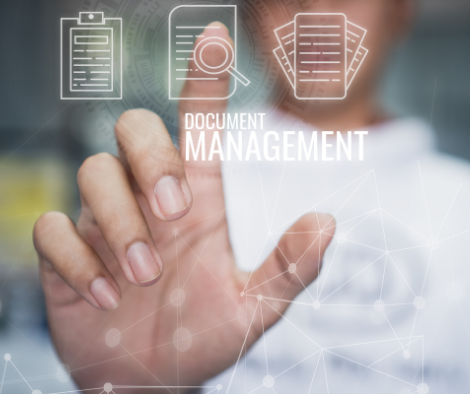 The last few years have brought mature document management strategies, which are also driven by integration with other technologies such as electronic archiving.
The digital transformation of companies supports their growth, and a modern document management system is the basis of digital transformation. Intelligent digital document management requires the ability to define simple and fast processes that respond to the dynamics of your business.
Documents contain information, and information is a crucial asset for any company. Therefore, proper management is needed to ensure complete control over the information.
Digital transformation
Digital transformation impacts every area of your business bringing employee productivity benefits, customer involvement in joint processes, collaborative work of dispersed teams, and ensuring easy regulatory compliance, all centered on your documents. Digital transformation is a must.
But of course, digital transformation requires planning on several factors. Here's what you need to take into consideration:
What does it mean for the industry in which you operate and particularly for your company?
Is it necessary if your company generates good performance? Will the company be more efficient in the next period, without digitization?
What is the plan for the company's objectives?
How your company needs to transform/adapt to the new digital work environment.
What does digital transformation mean for your documents?
The ability to access documents from anywhere is the most important indicator of digital transformation in document management.
Organizational development, not only helps organizations transition into a more productive phase but also brings change: new employees, new locations, and new requirements. One such, almost overnight, requirement is working remotely or at home because of the pandemic. This change helps you bring new ideas and ways of doing things, hence the need – for a way for your team to access documents and to work collaboratively.
Thinking about shared drives? Think again. Systems that offer a shared drive may seem like a quick way to store your digital documents. However, shared drives do not offer a high level of security, are not maintained, and turn into digital cemeteries where all data get buried and no one will be able to find anything.
Team Space is a digital collaborative platform built for teams and client work, with strong document management capabilities. It's all about a simple way to connect and empower individuals for better team results.
Digital transformation for workflows and automation
Your team needs a robust and sophisticated system for storing documents digitally, providing them secure access from anywhere, anytime. It facilitates team collaboration and enables a digital-first perspective, it can boost team capacity for innovation and gain a competitive edge in the digital era.
Digital transformation facilitates automation by using workflows according to your business processes, generating maximum operational efficiency. Automation increases productivity, labor efficiency, and product quality. With automated features, employees can then focus on client success and driving business growth. Thus, business process automation via document management software is extremely useful for organizations.
Automating data capture will release your employees to work on higher-value tasks and projects.
How urgent is the need for digital transformation?
Digital transformation could bring huge benefits to your document management, but how urgent is the need for transformation?
If you have integrated digital processes in any other departments of your company, digital document transformation is the obvious next step.
If you are thinking about adopting a digital transformation for the first time in your organization, your documents serve as an ideal project to start to turn in your advantage of the benefits of secure centralized data and remote access, with further possibilities for automated workflows.
A document management system, such as Team Space, allows companies to redesign how they handle documents and files. Whether they're working with meeting agendas, reports, purchase orders, or employee-onboarding forms, companies that switch from paper-based to automated processes improve employee efficiency, while saving resources.
Plan digital to hold past and future processes
Once you've figured out the need for digital transformation, you can plan to reorganize your document processing, in ways that cover already recorded documents and accommodate workflows that you'd like to introduce in the future.
Team Space includes a top Document Management module that allows you to prioritize the necessary activities needed to improve the business performance from the moment it's implemented.
Team Space Document helps you to index your electronic documents to one central location, in a relatively short amount of time.
A centralized document solution will provide you not only with productivity benefits but also important governance benefits, such as the ability to demonstrate regulatory compliance and to produce time-stamped user activity reports to satisfy any auditor.
Choosing a digital environment
Team Space supports the most suitable digital environment for your documents, be it on cloud, on-premises, or an easy-to-use mix of both.
Every organization's technological requirements are unique. No matter what option you are looking for your organization's data transfer depends on your choice, be it cloud or on-premises. Great benefits arise from the ability to combine them.
It's important to remember that your digital readiness will be a factor in your decision-making when planning your digital transformation for documents. If you are transitioning to the cloud, it's the ideal time to store your documents in the cloud. If most of your records are stored on-premises, your digital transformation should consider that.
Regardless of the environment chosen, now more than ever, you will surely want to include the capability for secure remote access for all stakeholders as a key part of your business continuity strategy.
Digitally transform your documents
What does a document management solution do? Getting to know its key features can help you understand what Team Space can do for your business. Get to know some of the examples below:
Index electronic documents to a secure central hub
Enable access for all, with different levels of access
Instant document search and retrieval
Version control
Automated workflows
Workflow visibility and team collaboration
Assured security and built-in compliance
Final thoughts
No matter the size of the company, businesses need to focus on optimizing their document management systems and embracing digital transformation as soon as possible.
Team Space helps organizations and teams to accelerate integration processes, store, access, and connect data, and enhance collaboration regardless of where you want it, in the cloud or on-premises. Think of it this way – regardless of the size of the team or project you manage information with great ease. Everything is organized, and accessible anytime and anywhere. You're just a click away to find out what's new on your dashboard.
To get started, send us a message and a Team Space specialist will answer all your questions.